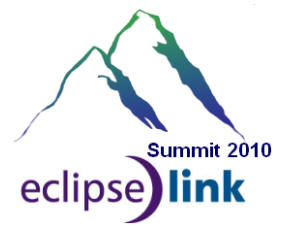 Last week we held our first
EclipseLink Summit
here in Ottawa with attendees from Canada, Germany, India, and the US. The principal goal of the summit was the exchange of technical information and ideas. We believe the event was a tremendous success!
We spent 2 days with committers leading technical sessions discussing areas from high level components and architecture to the detailed workings of EclipseLink's querying, caching, transactions, management, diagnostics, metadata processing, JPA 2.0 metamodel, and several other subsystems.
We would like to extend a big thank you to all of the committers who lead those sessions. The preparation time invested was obvious and the quality was amazing. We know it was tough to squeeze this additional work into your hectic pre-Helios schedules. The feedback from all attendees was excellent.
On the 3rd day of the Summit we focused more on the project itself. Starting with a talk from Jeff McAffer (EclipseSource) on OSGi and Eclipse RT technologies. We then discussed EclipseLink and OSGi, documentation, development process, build, testing and our road map planning.
While not all of these sessions allowed us to come to concrete conclusions the discussions were great and will hopefully carry on in our weekly committer meetings where we continue to improve our processes and refine our direction.
For those interested a more detailed summary of our Thursday sessions will be published to the eclipselink-dev@eclipse.org mailing list and topics requiring further discussion will be added to the weekly meeting agenda.
Thanks again to all the presenters and attendees. We are all looking forward to future EclipseLInk Summits where we can gather committers, contributors, and and users to share ideas and grow our community.
Your Summit Program Committee
Doug Clarke, Peter Krogh, and Shaun Smith